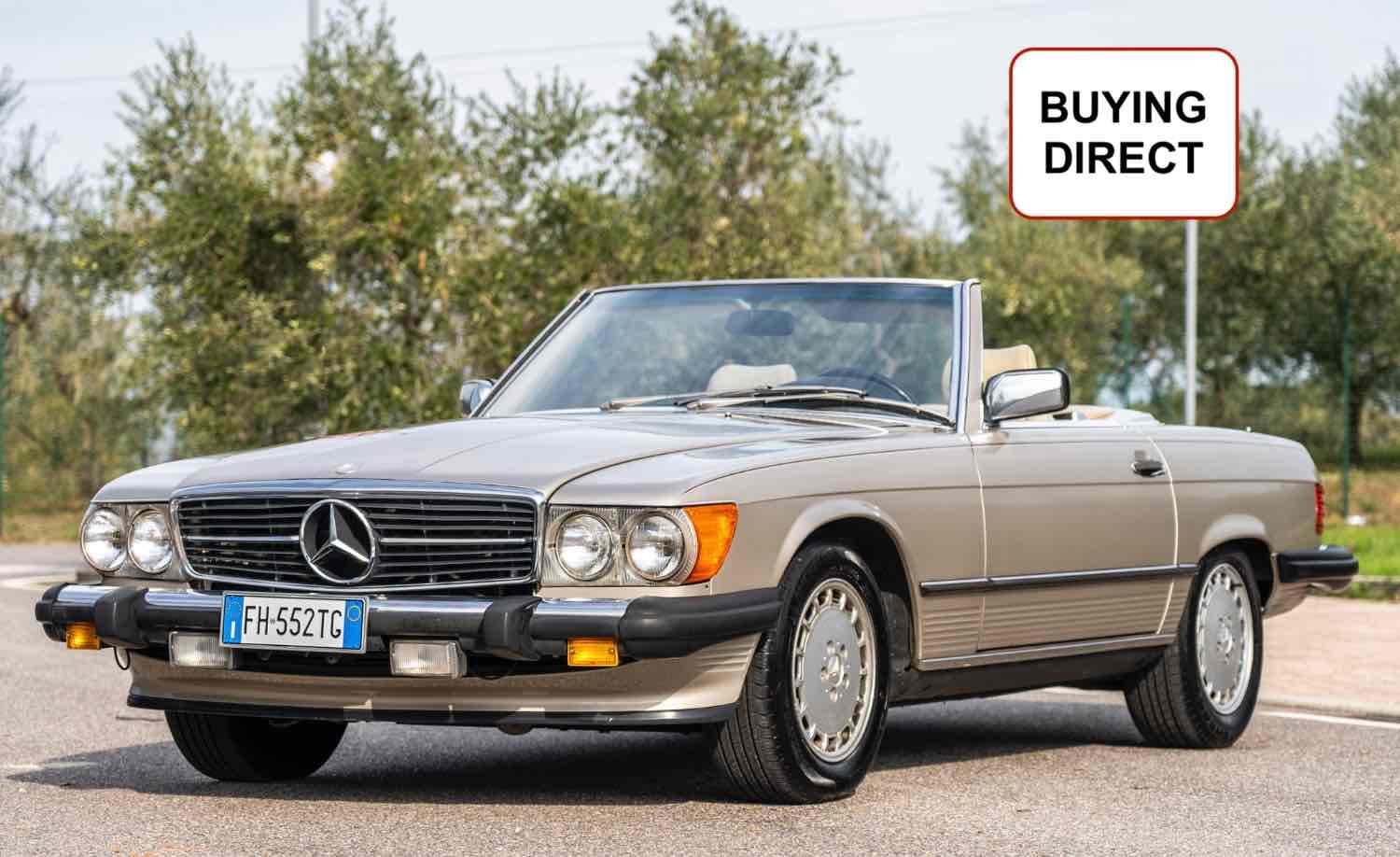 Mercedes-Benz - 560 SL - 1988
The identity card of the car
Specifications
Paese in cui si trova
Italia
Stile carrozzeria
Cabriolet
Lettura contachilometri
112916 mls
Documenti di registrazione
con immatricolazione italiana
Condizioni (vernice e carrozzeria)
2 - Molto buone: minime scheggiature o graffi, minimi e normali interventi su carrozzeria e vernice
Condizioni (interni)
2 - Molto buone: pulita, presenta minima usura. Potrebbe richiedere la sostituzione di piccolissime parti mancanti o rotte
Condizioni (telaio e sottoscocca)
2 - Molto buone: il telaio/la struttura è in buone condizioni di conservazione, minimi segni di utilizzo/usura
Condizioni (meccanica)
2 - Molto buone: meccanicamente sana, potrebbe richiedere un piccolo tagliando
Condizioni (generali)
2 - In condizioni molto buone: minimi segni di usura
Description
Car purchased by specialist Colin Fern in 2018 and then kept in a private collection. Completely original

The car, in excellent condition, is presented in its original color both as regards the exterior and the interior. Equipped with hard top and hood.

The electrical system is working as well as the air conditioning.

The brake system and master cylinder has just been overhauled and the car is ready to be driven on the road.

Kilometers confirmed by previous owner

In order with the technical inspection (valid until December 2024)

Some videos of the car, engine and road driving are available. Please contact us. You are also welcome to view and try the vehicle, which is located in Quarrata, Pistoia Province, 51039, Italy. Please send a message to luca@netclassic.it to arrange an appointment on site; you can also book a video call from your smartphone.

We can arrange transfer of ownership or exports documents remotely. Affordable shipping to Italy, Europe and rest of the world You can also conveniently pick up the car on site, as it can stay 15 days at our storage facility free of charge.
Gallery
WE DELIVER TO YOUR HOME
Everywhere your home is, no matter how far, we can bring the car directly to you.

After the auction, pick up your preferred option: collect the car yourself from our warehouse or have it delivered to you.
We are highly experienced in specialty vehicles moving, from project to competition cars and 4x4.

We regularly move vehicles within Italy, Europe and US/Canada and we are proud to offer assistance and cooperation for your needs.
EUROPE
Austria:
from 950€
Belgium:
from 1150€
Denmark:
from 1400€
France:
from 950€
Germany:
from 1150€
Greece:
from 1500€
Norway:
from 1500€
Netherlands:
from 1150€
Poland:
from 1200€
Portugal:
from 1350€
United Kingdom:
from 1350€
Spain:
from 1250€
Sweden:
from 1400€
AMERICA
New York - NY:
from 1500€
Maryland - WA:
from 1500€
Charleston - SC:
from 1600€
Galveston - TX:
from 1600€
Halifax, CA:
from 1700€
Jacksonville - FL:
from 1700€
Houston - TX:
from 1900€
Seattle, WA:
from 2100€
Hueneme LA:
from 1800€
OTHER COUNTRIES
Switzerland:
from 950€
England:
from 1500€
Australia:
from 1900€
LIVE IN PROGRESS
Reviews
"Excellent vehicle, excellent staff,
very helpful and professional from sale to delivery.
Highly recommended!"
Victor Sanchez
"Car was compliant to pictures and text.
Net Classic was very kind and reply to all questions concerning car and delivery."
H. Hoff
"Serious seller.
The car was in line with specs and pictures.
The seller took care of delivering the car to me in a closed trailer
and he always answered my questions promptly even after the delivery."
A. Lambert