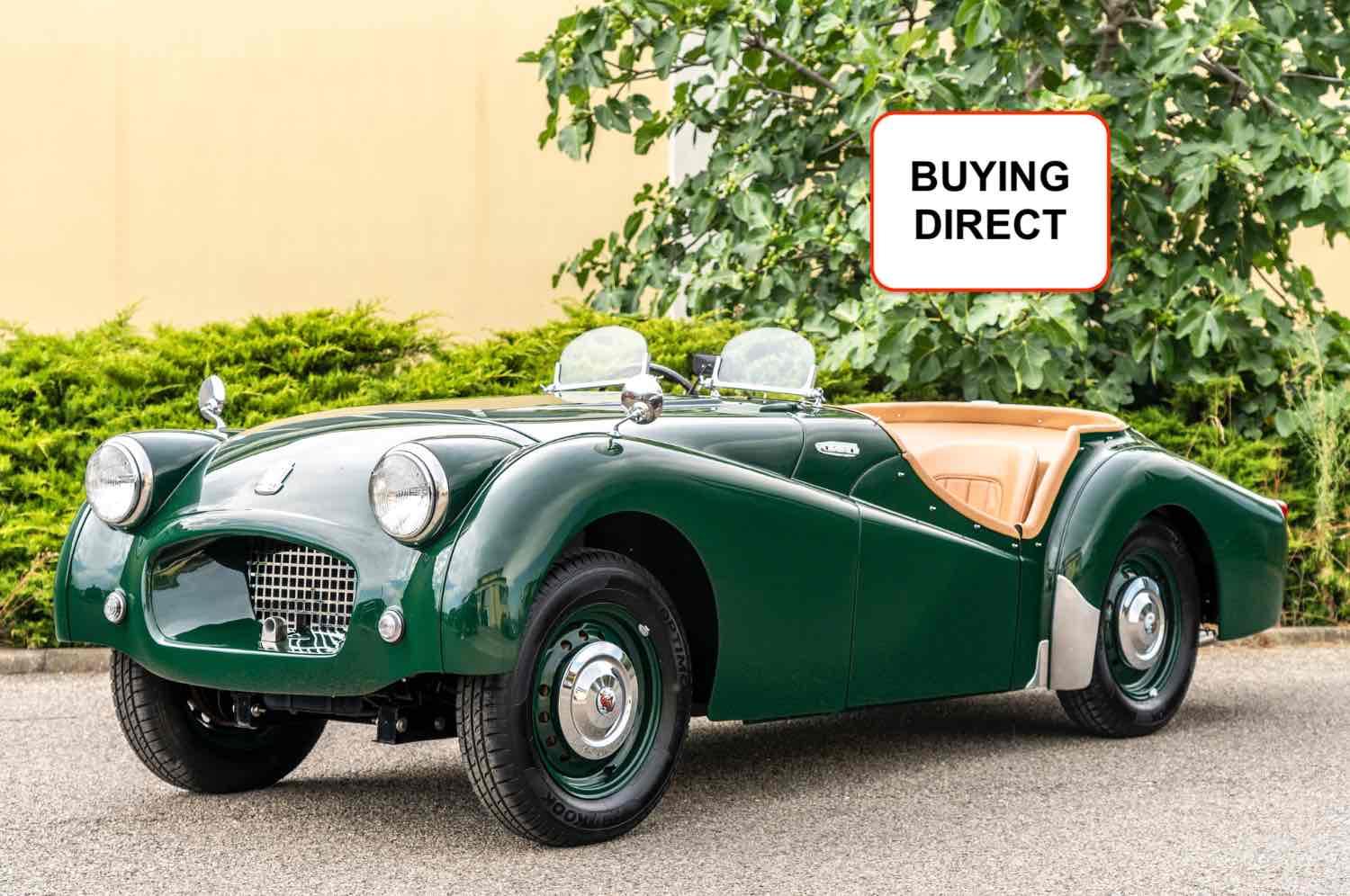 Triumph - TR2 Long Door - 1954
The identity card of the car
Specifications
Body style
Cabriolet / convertible
Registration papers
With exported English registration
Colour
British Racing Green
Condition (Paint & Body)
1 - Excellent: requiring no conventional body or paintwork
Condition (Interior)
1 - Excellent: no missing, broken, or damaged parts that require replacement
Condition (Frame & underbody)
1 - Excellent: frame/structure is in a perfect condition, no signs of rust or damages
Condition (Mechanical)
1 - Excellent: mechanically sound, no work to be done, no leaks, no service needed
Condition (Overall)
1 - Excellent condition: excellent and original condition
Description
Located in: Italy - With exported English registration - 20 mi - 1 - Excellent condition: excellent and original condition

Triumph TR2 Long Door, version of 1954, original British RHD, only a few hundred produced.

Complete and total restoration in lightweight racing configuration.


Car with Nut & Bolts restoration documented with photos and invoices that lasted over 10 years, engine completely rebuilt and only run 35km preliminary test since restoration due to the owner's age limit.

Matching numbers, matching colours, original English export page booklet from 1954.
It is still equipped with its original engine as per Heritage.

Completely new in every detail: engine/gearbox/suspension/brakes/
electrical system, instrumentation, interior, chrome.
Removed from the frame and rebuilt bolt by bolt.

Eligible Mille Miglia car, same version and colour as the Tin Tin protagonist.

Windscreen frame, hood frame and side windows are also included in the car.

Technical data sheet can be supplied free of charge with the car.

Some videos of the car, engine and road driving are available. Please contact us. You are welcome to view and test the vehicle, which is located in Quarrata 51039 (PT), Italy. Please send a message to luca@netclassic.it to arrange an appointment on site; you can also book a video call from your smartphone.

We can arrange transfer of ownership or exports documents remotely. Affordable shipping to Italy, Europe and rest of the world. You can also conveniently pick up the car on site, as it can stay 15 days at our storage facility free of charge.

A conformity check of the photos and description will be carried out by a third-party expert registered on the official list of insurance assessors and court list prior to delivery.
Gallery
WE DELIVER TO YOUR HOME
Everywhere your home is, no matter how far, we can bring the car directly to you.

After the auction, pick up your preferred option: collect the car yourself from our warehouse or have it delivered to you.
We are highly experienced in specialty vehicles moving, from project to competition cars and 4x4.

We regularly move vehicles within Italy, Europe and US/Canada and we are proud to offer assistance and cooperation for your needs.
EUROPE
Austria:
from 950€
Belgium:
from 1150€
Denmark:
from 1400€
France:
from 950€
Germany:
from 1150€
Greece:
from 1500€
Norway:
from 1500€
Netherlands:
from 1150€
Poland:
from 1200€
Portugal:
from 1350€
United Kingdom:
from 1350€
Spain:
from 1250€
Sweden:
from 1400€
AMERICA
New York - NY:
from 1500€
Maryland - WA:
from 1500€
Charleston - SC:
from 1600€
Galveston - TX:
from 1600€
Halifax, CA:
from 1700€
Jacksonville - FL:
from 1700€
Houston - TX:
from 1900€
Seattle, WA:
from 2100€
Hueneme LA:
from 1800€
OTHER COUNTRIES
Switzerland:
from 950€
England:
from 1500€
Australia:
from 1900€
LIVE IN PROGRESS
Reviews
"Excellent vehicle, excellent staff,
very helpful and professional from sale to delivery.
Highly recommended!"
Victor Sanchez
"Car was compliant to pictures and text.
Net Classic was very kind and reply to all questions concerning car and delivery."
H. Hoff
"Serious seller.
The car was in line with specs and pictures.
The seller took care of delivering the car to me in a closed trailer
and he always answered my questions promptly even after the delivery."
A. Lambert