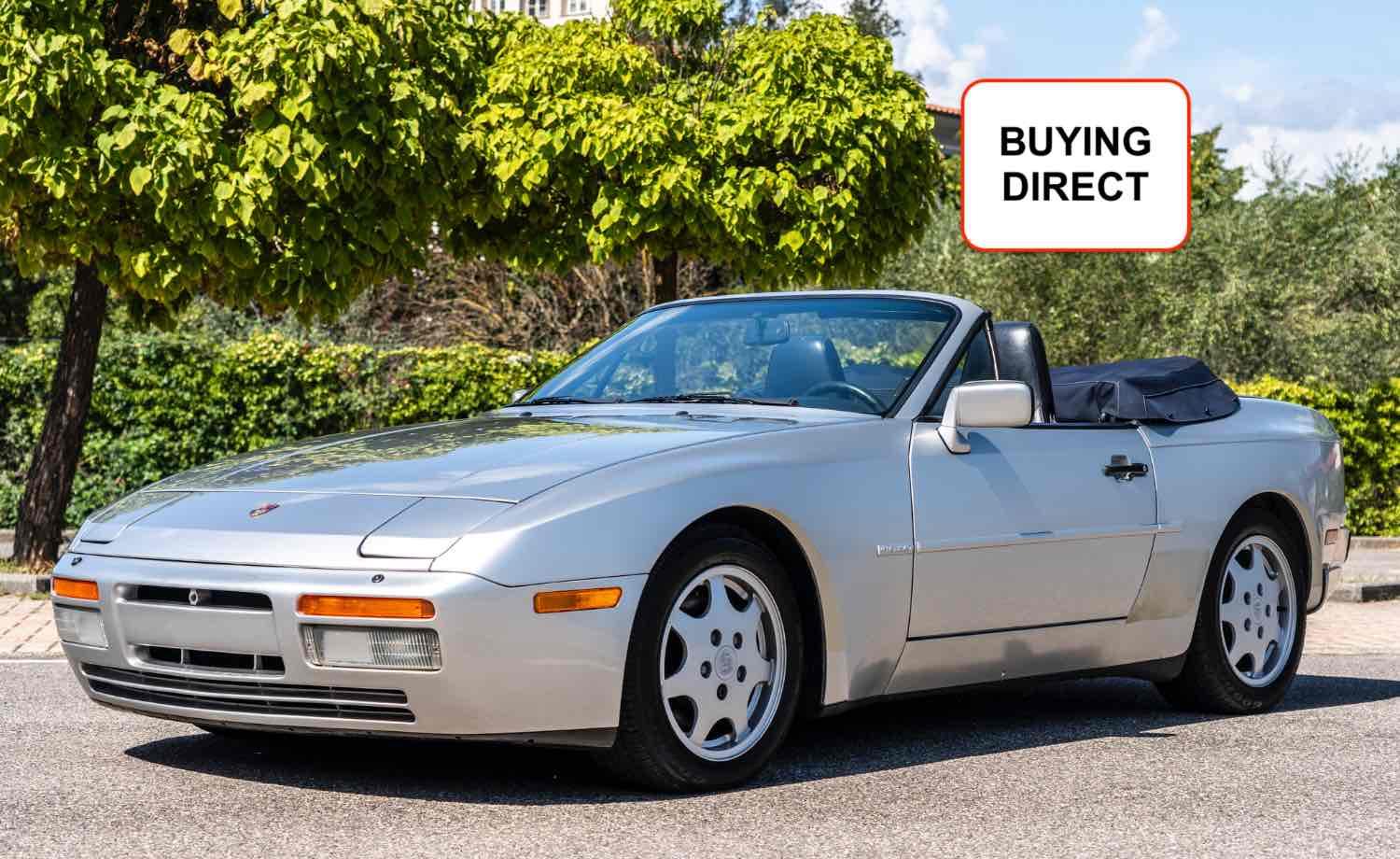 Porsche - 944 S2 Cabriolet - 1990
The identity card of the car
Specifications
Model Type
944 S2 Cabriolet
Body style
Cabriolet / convertible
Registration papers
with American registration
Condition (Paint & Body)
2 - Very Good: minor chips or scratches, minor conventional body and paintwork
Condition (Interior)
2 - Very Good: clean, showing minimal wear. May require replacement of minor missing or broken parts
Condition (Frame & underbody)
2 - Very Good: frame/structure is in a well preserved condition, minor signs of usage/wear
Condition (Mechanical)
2 - Very Good: mechanically sound, may require minor service
Condition (Overall)
2 - Very good condition: minimal signs of wear
Description
Located in: Italy - with American registration - 150117 km - 2 - Very good condition: minimal signs of wear

This Porsche 944 S2 Cabriolet is a rare original cabriolet car produced in only 3900 models between 1990 and 1991.

It has covered only 150117 km from when it was new, with a certification of the previous owner's kilometres, a Carfax certificate indicating that the car has never been in an accident and it is complete with its Title and customs clearance slip.

The original colour paintwork is in excellent condition with minimal front stonechips from normal use (see photo), and has just been polished and received a detailing service.

The engine is in excellent condition, has received a recent service and has a distribution at 150,000 km
documented with spare parts and workshop invoices and does not require any intervention to be
used. Gearbox, clutch and suspension need no work and were checked at the last service conducted.

The underbody is completely original, has never been subjected to accidents and is in excellent condition, these cars came out with a galvanisation from the rustproof factory.

Interior and hood are original and in the original blue colour, a rare and very elegant combination.

The hood opens and closes smoothly and is in excellent condition with no tears.

The original factory sticker confirms all original specifications (see photo) including air conditioning:

139 Seat heating, left
288 Headlight washer
340 Seat heating, right
454 Automatic speed control
533 Alarm
573 Air conditioner
593 ABS anti-lock braking system (Bosch)
946 Leather front seats with leatherette back side

A thickness gauge test on the bodywork confirmed excellent values with no signs of accidents.

A rare and genuine collector's model.

Some videos of the car, engine and road driving are available. Please contact us. Bidders are also welcome to view and try the vehicle, which is located in Quarrata, Pistoia Province, 51039 Italy. Please send a message to luca@netclassic.it to arrange an appointment on site; you can also book a video call from your smartphone.

We can arrange transfer of ownership or exports documents remotely. Affordable shipping to Italy, Europe and rest of the world You can also conveniently pick up the car on site, as it can stay 15 days at our storage facility free of charge.

An appraisal of the conformity of the photos and description will be carried out by a third-party evaluator registered in the official list of insurance experts and the Court, prior to delivery, and also a technical pre-test.

We recommend viewing the vehicle before the end of the auction, even via a video call on your smartphone (WhatsApp, FaceTime). Please send a message to luca@netclassic.it for an appointment. The seller reserves the right to claim compensation if the buyer does not pay for the purchase which automatically comes into existence with the winning bid and obliges the buyer to make the payment, as per the sales contract available on the seller's website.
Gallery
WE DELIVER TO YOUR HOME
Everywhere your home is, no matter how far, we can bring the car directly to you.

After the auction, pick up your preferred option: collect the car yourself from our warehouse or have it delivered to you.
We are highly experienced in specialty vehicles moving, from project to competition cars and 4x4.

We regularly move vehicles within Italy, Europe and US/Canada and we are proud to offer assistance and cooperation for your needs.
EUROPE
Austria:
from 950€
Belgium:
from 1150€
Denmark:
from 1400€
France:
from 950€
Germany:
from 1150€
Greece:
from 1500€
Norway:
from 1500€
Netherlands:
from 1150€
Poland:
from 1200€
Portugal:
from 1350€
United Kingdom:
from 1350€
Spain:
from 1250€
Sweden:
from 1400€
AMERICA
New York - NY:
from 1500€
Maryland - WA:
from 1500€
Charleston - SC:
from 1600€
Galveston - TX:
from 1600€
Halifax, CA:
from 1700€
Jacksonville - FL:
from 1700€
Houston - TX:
from 1900€
Seattle, WA:
from 2100€
Hueneme LA:
from 1800€
OTHER COUNTRIES
Switzerland:
from 950€
England:
from 1500€
Australia:
from 1900€
LIVE IN PROGRESS
Reviews
"Excellent vehicle, excellent staff,
very helpful and professional from sale to delivery.
Highly recommended!"
Victor Sanchez
"Car was compliant to pictures and text.
Net Classic was very kind and reply to all questions concerning car and delivery."
H. Hoff
"Serious seller.
The car was in line with specs and pictures.
The seller took care of delivering the car to me in a closed trailer
and he always answered my questions promptly even after the delivery."
A. Lambert