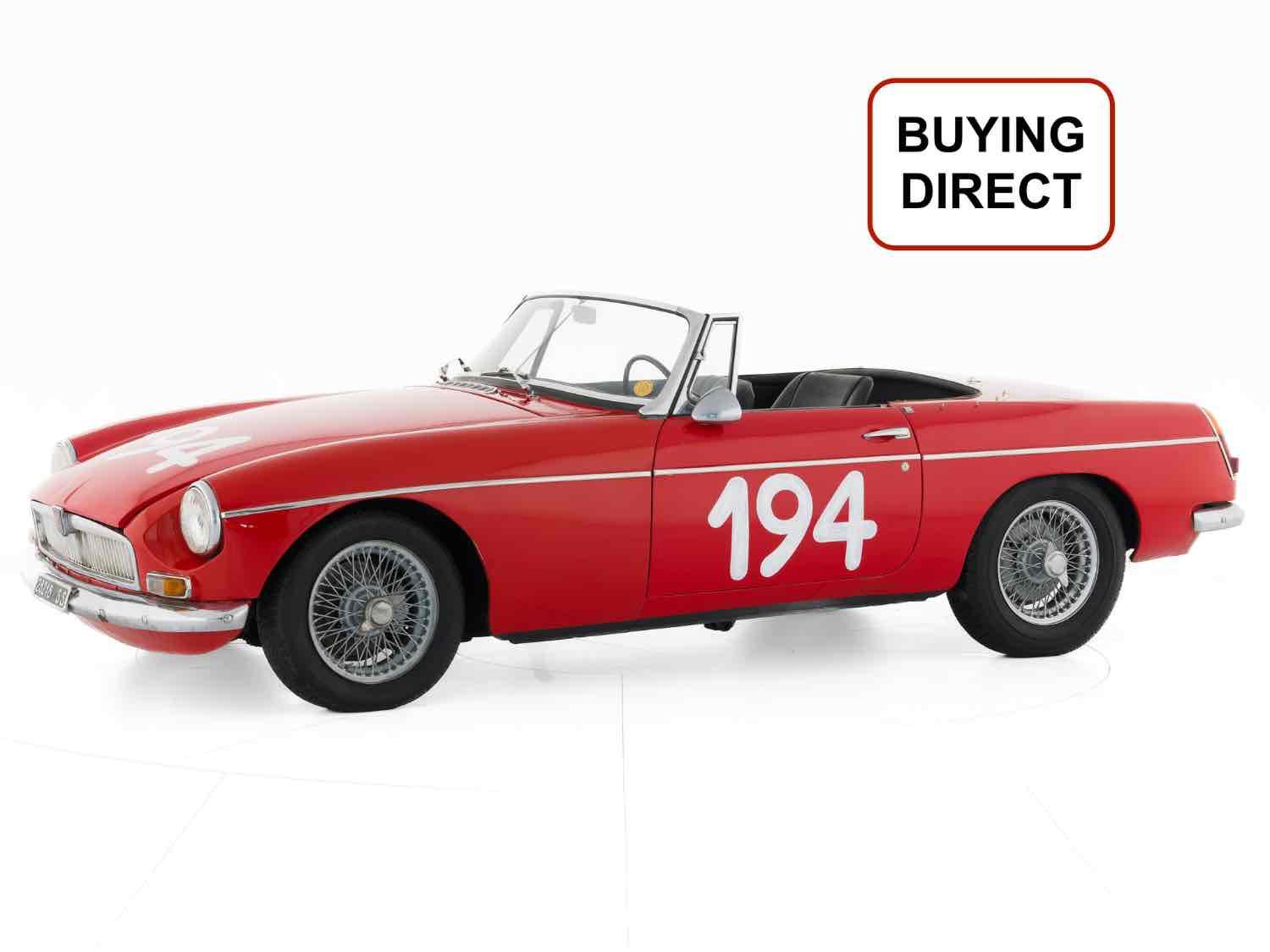 MG B ROADSTER EX TARGA FLORIO - 1963
EXPERT ESTIMATE
28000 - 35000 EUR
Share with your friend
The identity card of the car
Description
HIGHLIGHT
- One of the first produced in 1963
- Belonged to former Mille Miglia driver Antonino Siddi
- He raced the 1964 Targa Florio in the 2000cc category
- The first MGB to have participated in the Targa Florio
- Equipped with Overdrive from the factory

HISTORY/OVERVIEW
The MG B is a sports car produced by the MG car manufacturer and was a fundamental model for the Abingdon (UK) company, because it was its first sports car with a load-bearing body. The very first versions produced are called "Pull Handle" for the handles with pull opening.

This example is historically unique: it belonged to the Sardinian driver Antonino Siddi who ran, among others, the Mille Miglia twice. With this MG B he entered the 48th Targa Florio alongside Shelby Cobra, Porsche 904, Ferrari 250 GTO, ATS, Alfa TZ and was the first MG B to race the Targa. The palmares is documented by several photos (copyright Actualfoto and Pubbliphoto) and by magazines of the time and rankings.
It has had only one owner since 1980, the last technical inspection expired in 2017.

EXTERNAL
The car had a repaint in the 1980s and is in the original color (as Heritage was born with) but lived in and with various signs of aging. It can also be used while maintaining the patina of time
of a car with a sporting past.

The underbody and chassis have some spots of corrosion and require some localized repairs (see photos).

INTERNAL
The dashboard is complete with its rare instruments, European odometer and all its factory instruments. A sports seat is installed in the driver's seat but its seat is included together with other spare parts (see photo).

MECHANICS
Mechanically the engine runs, however the car has been started and requires maintenance to be able to be used due to the long standstill. The brakes are free.

This MGB is a unique opportunity for an easy restoration of a car with an important historical past: it can be used in competitions for cars from this historical period and can be easily tuned and be very competitive. You will never find another MGB with this history

Documents in order from transfer of ownership or export

DOCUMENTATION
Italian documents included
Historic Italian libretto
Chronological extract
Reproduced birth plates
Heritage certified
Vintage photo
Vintage charts
Vintage articles on Road & Track

Note: vintage photos are Copyright Actualfoto and Pubbliphoto
which hold the high resolution originals.

A high resolution gallery and some videos of the car are available, please contact us.

Gallery
WE DELIVER TO YOUR HOME
Everywhere your home is, no matter how far, we can bring the car directly to you.

After the auction, pick up your preferred option: collect the car yourself from our warehouse or have it delivered to you.
We are highly experienced in specialty vehicles moving, from project to competition cars and 4x4.

We regularly move vehicles within Italy, Europe and US/Canada and we are proud to offer assistance and cooperation for your needs.
EUROPE
Austria:
from 950€
Belgium:
from 1150€
Denmark:
from 1400€
France:
from 950€
Germany:
from 1150€
Greece:
from 1500€
Norway:
from 1500€
Netherlands:
from 1150€
Poland:
from 1200€
Portugal:
from 1350€
United Kingdom:
from 1350€
Spain:
from 1250€
Sweden:
from 1400€
AMERICA
New York - NY:
from 1500€
Maryland - WA:
from 1500€
Charleston - SC:
from 1600€
Galveston - TX:
from 1600€
Halifax, CA:
from 1700€
Jacksonville - FL:
from 1700€
Houston - TX:
from 1900€
Seattle, WA:
from 2100€
Hueneme LA:
from 1800€
OTHER COUNTRIES
Switzerland:
from 950€
England:
from 1500€
Australia:
from 1900€
LIVE IN PROGRESS
Reviews
"Excellent vehicle, excellent staff,
very helpful and professional from sale to delivery.
Highly recommended!"
Victor Sanchez
"Car was compliant to pictures and text.
Net Classic was very kind and reply to all questions concerning car and delivery."
H. Hoff
"Serious seller.
The car was in line with specs and pictures.
The seller took care of delivering the car to me in a closed trailer
and he always answered my questions promptly even after the delivery."
A. Lambert